A Marble Vanity in Concord Has the Most Dazzling Glow Thanks to Our Stone Polishing Crew
November 13, 2023
You can never go wrong with a marble vanity. Marble surfaces provide all the elegance you could ask for without looking out of place or making the rest of the room seem too garish. Of course, marble can lose its beauty after months of activity and exposure to the elements, so it's no wonder that homeowners need to look for new solutions when weekly cleaning stops having the desired effect.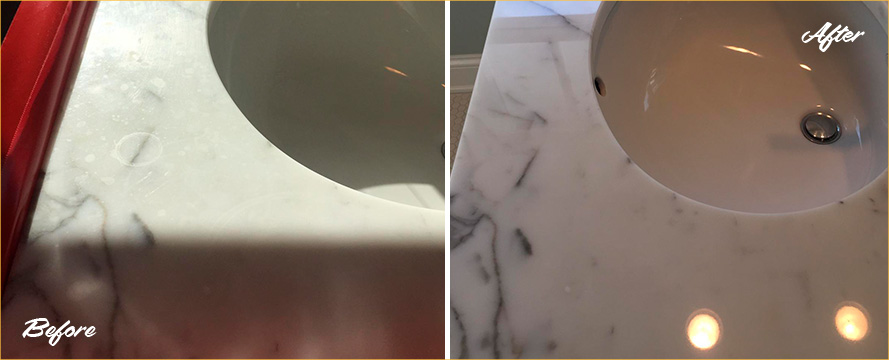 A homeowner in Concord started documenting her cleaning results after she failed to get the etch marks off her vanity for the first time. She tried different products and tools on the white marble surface without ever scrubbing hard enough to scratch the stone. In the end, the vanity top lost most of its shine, and new stains appeared, so the homeowner decided to contact our
Concord stone polishing
. Some of her friends had recommended Sir Grout Concord to her in the past so she had no trouble finding our website and asking for an in-home evaluation.
Our techs responded soon after she'd sent her request. They went to her house to look at the vanity before deciding on the best approach. Once there, our specialists observed the marble surface while looking for embedded dirt and cracks. They saw numerous ring marks on one side of the vanity and noted that the stone had a crude look that no one would ever associate with marble surfaces. After asking some general questions about household chores and cleaning products, our techs could see that the vanity had been subjected to multiple acidic formulas. Even mildly acidic cleaners are still a common cause of etch marks and dullness when they're used repeatedly on natural stone surfaces. After completing their inspection, our clients gave the client a rundown of Sir Grout's stone restoration process, explaining how they would polish the stone after cleaning the vanity top with our special equipment. The client trusted their knowledge after seeing our specialists during the inspection, so she didn't have to think too long before scheduling a new appointment for the job.
A few days later, our crew returned to her house bright and early to work on the vanity. They started by soaking the flat surface with a pH-neutral cleaner. After letting the product sit for a few minutes, our techs wiped the marble thoroughly, working through old stains and surface-level marks on the stone. Our cleaner ensures the best treatment for marble and other delicate stone surfaces. It removes all the stains while preserving the stone's natural shine so that high-traffic surfaces can look their best at all times of the day.
Next, our specialists honed the vanity top using three sets of diamond pads. They increased the level of grit as they ran the pads on the stone, repeating the process several times until they had dealt with all the signs of etching. When the marble had a glossy matte finish, our specialists were ready to polish the surface. After using high-end powders and removing all the residue, the stone regained the soft shine that marble surfaces are known for.
The last step was protecting the marble from new marks since it's not hard for vanities and countertops to get scratched or stained over time. Our techs covered all parts of the surface with a protective sealer, protecting the stone from chemicals, mold, water, and even UV rays. With our sealant in place, homeowners don't have to struggle to bring out the shine on natural stone surfaces. By the end of the process, it looked like the vanity had remained untouched for months; the surface looked smooth while lighting up the entire bathroom with its glow.
The client was obviously amazed by the result, and she thanked our specialists many times before promising to recommend our services all over her neighborhood.
When our techs were ready to leave the house, they took a minute to share some additional cleaning pointers. First, they told the client that bleach and other generic cleaners could set back all her maintenance efforts in a relatively short while. PH-neutral formulas like
Sir Grout's Natural Hard Surface Cleaner
do a much better job at keep stone surfaces smooth and glowing without gradually weakening the grain. This also means that homeowners can spend less time scrubbing their marble vanities and this puts less of a strain on the surface. To avoid scratches and other deep marks, our techs recommended using non-abrasive tools, like a fresh towel or a terry cloth. The results are much more satisfying when you combine the right tools with effective cleaners that are free of any acidic imbalances. Keeping a predominantly dry environment also helps when it comes to dealing with embedded dirt, so it's important to ensure great indoor ventilation.
Remember: you can always contact Sir Grout Concord if you want to revamp your marble surfaces or even if you want to learn more useful cleaning tips. We gather the most skilled hard surface professionals and harness the best equipment to ensure an efficient process. Our specialists are always ready to wow you with the most thorough results. So, feel free to call
(704) 360-5332
or
schedule a free quote
online to request an in-home evaluation. Also, don't forget to subscribe to our
newsletter
so you don't miss out on our latest promotions and updates.