Our Grout Sealing Services Renewed a Shower in Winston-Salem, NC
September 10, 2023
The maintenance of a shower can be a troublesome task as standard methods are not enough to address some issues. This becomes a problem for many homeowners as DIY guides or store-bought cleaners won't provide the desired results. Recently, a homeowner from Winston-Salem, NC, was having issues with the maintenance of her shower. The owner cleaned the area regularly, but the surface still looked dirty and unpleasant. After some consideration, she decided to seek professional assistance.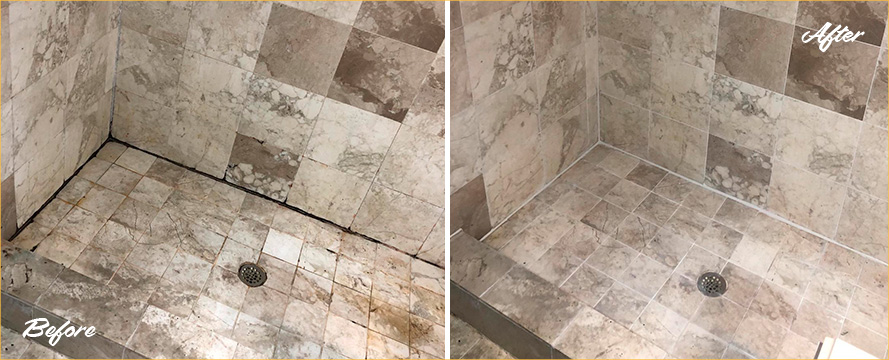 While searching for a solution, she spoke to a friend who recommended Sir Grout Concord. Our loyal client told her our
grout sealing services in Winston-Salem, North Carolina
were the best in town. The owner followed his suggestion and visited our user-friendly website. She went through the
picture gallery
and checked the numerous five-star reviews we receive daily. Happy with her research, she decided to ask for a free evaluation through our
schedule a free quote
page.
We promptly responded to her request and conducted the in-home consultation. Upon entering the area, we noticed multiple issues. The grout had deteriorated and appeared unsightly, while the tiles had lost their charm and looked shabby. Additionally, the grout lines were in need of sealing. This was a critical problem as the porous mixture could absorb external agents, resulting in further damage. To prevent any more deterioration, it was necessary to apply a specialized sealant.
After sharing our insight, we discussed a solution with the owner. It was evident that the surface required professional attention, and we offered our grout sealing services. Our top-notch renewal process would revamp the shower and provide a resilient shield to the surface. Before providing a quote, we performed a brief test to demonstrate the effectiveness of our process. The results were impressive, and the owner was satisfied with our offer, so she immediately hired us for the job.
A few days after our initial visit, we went back to restore the shower. Our process is quite remarkable and involves a series of steps. Initially, we cleaned the surface using our exclusive cleaner which is made from high-quality ingredients and leaves no residue, thereby preventing any damage to the surface. Next, we used a steam cleaner to remove any embedded dirt, and then we took care of the grout.
Regular cleaning methods are often ineffective when dealing with stains, discoloration, or severe damage. For this reason, many homeowners struggle with this chore and end up disappointed with the results. Nevertheless, Sir Grout Concord has the products and expertise to restore any surface. We thoroughly worked on the shower floor, giving the grout lines a renovated look. To close on a high note, we sealed the surface using Sir Grout's flagship sealant, ColorSeal.
Our high-quality product offers a strong defense, protecting tiles and grout from dirt, grime, and other external agents, helping stop deterioration. This makes cleaning routines easier and effortless. ColorSeal gives the grout a uniform color and a brand-new appearance, improving the surface tenfold. Our customers can choose from a vast selection of colors to find the one that best suits their preferences.
We successfully completed the surface restoration, and the shower looked amazing and beautiful, just as we expected. We called the client to show her the results. When she entered the area, the owner expressed her joy as everything looked clean and renewed. Our client was pleased with our work and sincerely thanked us, assuring us that she would recommend our services to everyone.
Due to daily use, showers can deteriorate quickly. Because of this, they require proper care. Adhering to our recommendations is crucial to achieve optimal results. We recommended setting a weekly cleaning routine using
Sir Grout's Natural Hard Surface Cleaner
, which is safe for pets and everyone in the household.
Our product offers many benefits and provides amazing results, surpassing any other option on the market. We discourage the use of soap-based substances, as they contain harsh agents that can damage the surface and leave a residue that seeps into the grout, causing stains, discoloration, and other issues.
Mold and mildew are a threat. These fungi thrive in damp areas, live in darkness, and feed on soap scum. To prevent their growth, it's important to keep the area well-lit, provide a source of fresh air by leaving the door ajar or window open, and always dry the surface with a squeegee, a towel, or a terry cloth. Regular squeegeeing also helps to minimize the accumulation of dirt, keeping the area spotless.
As you can see, Sir Grout Concord's grout sealing services offer excellent results. Don't wait any longer and contact us by calling
(704) 360-5332
or by filling out our "Request a Quote" form for a free consultation. To learn more about our commercial restoration services,
click here
, and discover what our maintenance program can do for your business. Likewise, please consider subscribing to our
newsletter
so you don't miss out our latest promotions and updates.